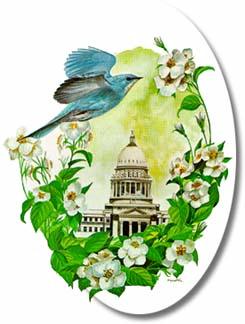 State Facts
---
Nickname: Gem State
Motto: Esto Perpetua meaning "May She Endure Forever"
State Tree: Western White Pine (Pinus Monticola)
State Flower: Western Syringa (Philadelphus Lewisii)
State Bird: Mountain Bluebird
IDGenWeb Project ( 12/1/1998)
The State of Idaho was one of the newer states to enter the United States on July 3, 1890 as the 43rd state. Today, the state is estimated to have over 1.65 million people living within its boundaries where its lands have more diverse topography than any other state, which includes: high mountain ranges, forest, lakes, lava fields, deserts, lush farmlands, and probably, more running water sources than any other state. The topography is not the only interesting part of Idaho. Its people and its history have been synonymous with diverse walks of life, such as mountain men, the American Indians and their tribes, the miners and their mining districts; as well as the cattlemen and sheepherders and their ranches. Let's not forget about the outlaws and the law-abiding citizens who were the early pioneers of the territory and later statehood. The state has seen its share of immigrants as well from all parts of the world.
Idaho was originally a part of the Northwest Territory or better known as the Oregon Territory. Idaho became a territory about the same time as Washington did in 1863. Idaho Territory included the lands of Montana and Wyoming, but eventually, it separated about the time Idaho became a state in 1890. There are currently 44 counties within the state, including four different Indian reservations. When Idaho became a territory, the first capitol was in Lewiston, Idaho until the territorial legislature voted to have the capitol located in Boise City, which in later years became just simply Boise.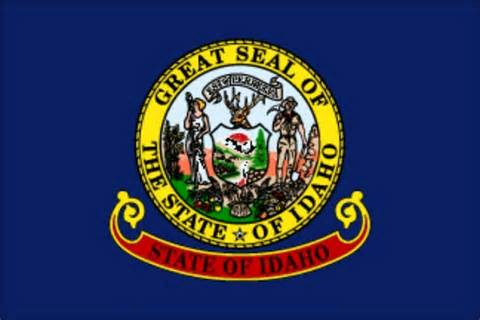 The first territorial governor was William H. Wallace, who was appointed by U.S. President Abraham Lincoln. Wallace served for only five months in 1863, then following by Caleb Lyon. There were sixteen territorial governors before Idaho's first appointed governor. George Laird Shoup was the last territorial and first state governor of Idaho. Though, it was short lived. Today's governor, C. L. "Butch" Otter who served in this capacity since 2007.
The official flag of the State of Idaho was adopted in 1907. The background color is deep blue with the state seal in the center surrounded by a yellow band. The seal is a man---a miner carrying his pick and shovel, and then there's a woman---carrying a scale of justice, symbolizing liberty and justice. The motto: "Esto Perpetua" ---meaning "May it Endure Forever" ---written around the yellow cornucopias. An elk head atop, shield with a river, settlers, a fir tree, and mountainous land, a sheaf of grain, green grass, and a blue sky. Emma Edwards Green designed the state flag.
Idaho continues to enrich its history with more formidable ancestral roots.